Testimonials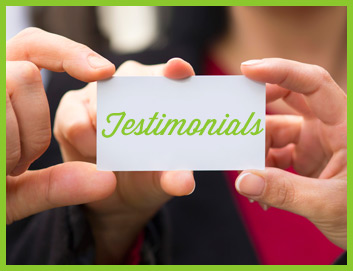 "Utilizing Optimal Billing Solutions has proven to be one of the best decisions I have ever made in my professional career. I consider the expertise, experience, and professionalism to be second to none. But more importantly, Optimal Billing Solutions has proven to be effective, tactful, and trustworthy on countless occasions. I cannot express enough my satisfaction with their service."
David Ishii
Owner-Synergy Physical Therapy
Huntington Beach, CA
"I have had the privilege of working with Optimal Billing Solutions from the opening of my clinic in 2004. From the very beginning they played a pivotal role in ensuring that our billing policies/procedures were current, efficient, and cost-effective. They are the best in the area of medical billing and operate under very high standards which eliminate costly errors, ensure patient/client satisfaction, and optimize reimbursement. I can honestly say that the owner is the most exceptional professional person I have had the opportunity to work with and I give her a tremendous amount of credit for the significant growth of my practice (over 300%). After 5 years of doing business together they continue to maintain their commitment to excellence so we have little to no problems or complaints. To put it simply, I don't even worry about my billings, because I know they have it under control and operating at maximum efficiency while staying within legal, moral, and ethical guidelines. I highly recommend Optimal Billing Solutions for your medical billing needs."
Tim Kuhn
Former Owner-Premier Physical Therapy
Reno, NV
I have had the pleasure of working with Stacy Bevington for 15 years. She is very dependable, professional, honest, fair, knowledgeable, organized and resourceful. In this ever changing medical insurance world, she keeps abreast of the latest information and sees to it that all her physical therapists and clinic owners are well informed and equipped with the most up to date information on a regular basis. This allows us to make the best possible decisions with our patients that are most beneficial for everyone. It is of the utmost importance to Stacy that all her clinics maintain strict compliancy with insurance standards while still providing the best possible care. I can, without any reservation, highly recommend Optimal Billing Solutions for your insurance billing needs. You would be missing out on a wonderful opportunity to generate the highest possible revenue if you didn't!!!
Lesley Koch, MPT
Physical Therapist
Huntington Beach, Ca
I have personally worked with Stacy for 9 years and she is fantastic!  Since I've known her she has expanded and is running a flawless billing department.  Her staff is always available to answer our questions and we receive correspondence back quickly.  I consider her not only a business partner but also a good friend over the years.  I would highly recommend her services to any office who is looking to increase their revenue and reduce their headache with insurance companies.
Laura A
Premier PT Business Manager
Reno, NV
Optimal Billing Solutions is a group of professionals with years of experience in billing and understanding the ever-changing insurance market. Each employee is dedicated to ensuring their client's needs are met. From answering email and voicemail in a timely manner to ensuring billing is accurate and meets industry guidelines, Optimal Billing Solutions has helped our company for many years. I rely on Stacy Bevington and her team to guide me in matters of billing and with insurance questions. Their knowledge and expertise has made my job as the Business Manager of a physical therapy clinic in Las Vegas much easier. I would highly recommend Optimal Billing Solutions to anyone who wants a pleasant billing experience.
Kortney K.
Business Manager LV Premier PT
Las Vegas, NV
Optimal Billing Solutions has made my life easier. They have helped me build up my practice by making sure I am getting paid for my services. They are always very willing to help and do an excellent job. I would highly recommend them to anyone. They head you in the direction of success if you are just starting out and will make you even more successful if you already have a practice in place. Best business choice I made!
Jared Pugmire, DPT
Owner-High Desert PT
Pocatello, ID